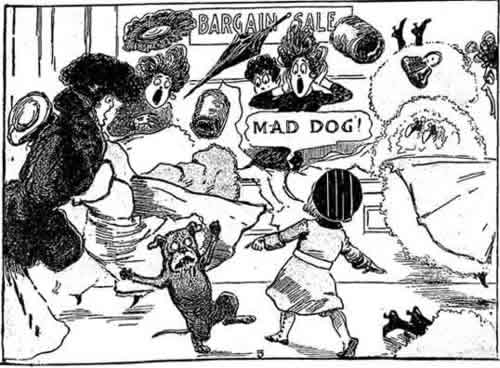 In a post on his site expressing the joy of living in a world full of an untold wealth of classic comics reprint books, Mike Lynch just provided a nice list of places to find great old comics on the web as well as in print… most of these I knew about, but he had a couple that were new to me. Here are his links:
Coconino World is a huge site, in French and English, that celebrates a lot of classic cartoonists. If you go to this page, you can start looking at Swinnerton, McManus, etc.

Shane Glines' Cartoon Retro (subscription only), celebrates classic cartoon illustrators. Lots of stuff here. Join up for a month. I did.

Andy's Early Comics Archive is an incredible collection of cartoons through the centuries with tremendously large scan for much oohing and aahing. I love the page of photos and caricatures of cartoonists here.

Craig Yoe's Arf Lover's Blog is a wonderful collection of cool stuff. I always wind up spending time looking at old gag cartoons, old comics and other items of delight that Craig has.

Stripper's Guide by Allan Holtz is not as racy as it sounds. Lots of great old comic strips here.

Barnacle Press is a trove of old features from the comics pages.

Arnold Wagner's Cartoonology always has the insider stories about cartooning and comics.

Leif Peng's Today's Inspiration blog tends to be more about post-war illustration, but the site is such an interesting place to visit and it's full of vintage material, that it's worth a looksee.
These site all have a wealth of great stuff on them… some of them, like the amazing Barnacle Press, have rss feeds you can subscribe to too. check them out. Here are some additional places you can find classic comics on the web:
1) Yahoo Groups has a number of great classic comics groups that will deliver great comics to your email box (I just wish that Yahoo did a better job of archiving these posts for viewing on the web). There are far too many to list here, but here are some of highlights:
PlatinumAgeComics is a GREAT group featuring pre-1938 comics that sends stuff all the time… most of which you are highly unlikely to have ever seen before. You have to request membership to the group… and what a membership they have! Many notable comics historians and cartoonists are vary active participants in this excellent group. If you find this interesting, you'll also want to subscribe to PlatPics, their related picture posting group.
There are a number of Yahoo groups with posts for various old strips… the regularity of the posts vary greatly from group to group… search around for your favorite old strips and there may be a group for them. One of the best I've subscribed to is Roger Langridge's GoogleGang group which sends out dailies of Billy DeBeck's great, hilarious strip Barney Google (which is in desperate need of a good, complete print reprinting).
2) Scans Daily offers frequently updated scans of old and new comics, generally from comic books.
3) The guide to the San Francisco Academy of Comic Art Collection (founded by Comics Historian Bill Blackbeard) doesn't have complete comics, but has panel samples and references to work by many artists that you won't find anywhere else on the web. The offline collection is almost certainly the most complete collection of newspaper comics history anywhere. Most of comics history would have been obliterated if it hadn't been for the pioneering collecting efforts of Blackbeard and a handful of other comics historians. Indeed, virtually all classic comics reprints owe a debt to Blackbeard and his collection. Thanks Bill!
Note that some or all of this collection was donated a while ago to the Ohio State University Comics Research Library, the biggest library of comics-related research materials in the world (you can read more about some of their amazing collection at this link).
I wish they did a better job of representing this amazing collection online… it's a good reason to visit Ohio, though! They also host the Festival of Cartoon Art, if you want another reason to visit them. There is also a large collection of ancient strip clippings at Michigan State University.
4) Comicsresearch.org has a huge list of cartoonists around the web (along with a lot of other interesting stuff), with links to their works and related information.
5) I've never ordered anything from them but this site and this site offer a number of very obscure old comic books on cd.
6) Here's a free classic comic book of the week from comic-art.com (although I don't know if they actually update it weekly or not).
7) For an enormous treasure trove of comic book cover images, see the Grand Comic Book Database. It's a great project amassing a huge amount of information about every comic ever printed, similar to the Internet Movie Database, but for comics.
8) Excellent comics and comics history magazine Hogan's Alley offers a number of interesting features on their website, including some great classic comics reprints.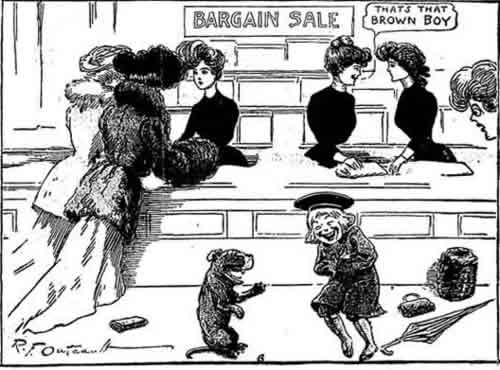 Know of more great places to look at old comics online? Let us hear about them in the comments!