Although finding classic comics on the web is great, printed comics are more pleasing to read than ones read on a computer monitor, in my view. Good reprints of classic comics used to be relatively hard to come by… we now live in a world filled with many reprints of the greatest work from comics history… it is truly an embarrassment of riches (although there is still, of course, huge amounts of beautiful neglected stuff… I'll talk about that in future posts).
This article will provide an overview of some of the great reprinted material that is out there, in no particular order.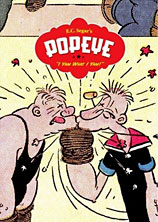 1) Fantagraphics Books (fantagraphics.com) is indeed the world's greatest publisher of comics, and they offer a huge selection of amazing reprints among their wares (along with some of the best new stuff you'll find anywhere). They are currently reprinting some of the greatest comics of all time, and doing it with style, class, historical research, and good design (which is not true of many of the other comics reprint publishers).
Here you can find (in progress) the complete George Herriman Krazy Kat Sundays (and a dailies overview book coming soon, all beautifully designed by Chris Ware… the Sunday books will also be including Herriman's Stumble Inn Sundays), the complete Charles Schulz Peanuts, the complete Elzie Segar Popeye (a new series just started… they reprinted these previously in excellent but inferior black and white volumes), the complete Walt Kelly Pogo (new series coming soon), the complete Walt Kelly Our Gang, a volume of Otto Messmer's Felix the Cat, the complete Harold Gray Little Orphan Annie (new series coming soon), the complete Hal Foster Prince Valiant, the complete Hank Ketcham Dennis the Menace, some great Winsor McCay reprints, the collected works of Jules Feiffer, a new printing of The Comic Strip Art of Lyonel Feininger (coming soon) and more.
In addition to all the great old strip reprints and great modern stuff, they have also produced a number of reprints of some of the best in underground and more recent comics, including The Complete Crumb, Foolbert Sturgeon's The New Adventures of Jesus, some Jack Jackson reprints, and a ton of Vaughn Bode stuff.
Besides all of those wonders, they publish the Comics Journal, which now includes a healthy chunk of comics in every issue, generally reprinted from obscure sources.
Please note that Fantagraphics is currently suffering very serious and expensive legal troubles, and they have started a legal defense fund to help with this. One of the best ways you can assist them is to BUY THEIR BOOKS, preferably directly from them. A good cause like this is a great way to help justify doing yourself the favor of purchasing some their vast array of wonderful books.
2) Drawn and Quarterly (drawnandquarterly.com), another wonderful publisher of comics, is currently publishing beautifully designed reprints of Frank King's Gasoline Alley (published as Walt and Skeezix) and Tove Jansson's Moomin. Their Yoshihiro Tatsumi reprints have been very interesting… Tatsumi was (and presumably still is) quite the innovator in presenting adult content in comics, and I had never seen any of his work before these reprints. They have a Clare Briggs' Oh Skin-nay! reprint in the works as well.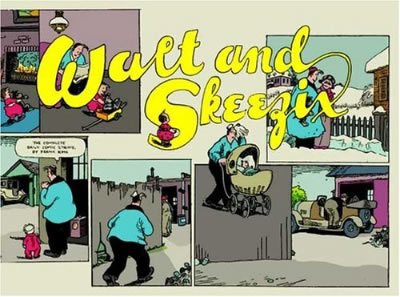 3) Spec Productions (specproductions.com) produces many small press reprints of obscure and wonderful stuff, with an emphasis on old adventure strips including Captain Easy, Flash Gordon, Buck Rogers, Alley Oop… and Gasoline Alley!
Besides adventure strips, they are producing some great George Herriman reprints called By George! The Komplete Daily Komics of George Herriman edited by comics historian Bill Blackbeard (full disclosure: I designed the covers for volumes 2-4). These books reprint much Herriman stuff you won't find anywhere else, including the first Krazy Kat strips!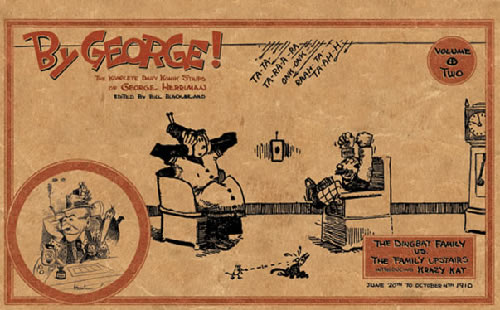 Krazy Kat got her start as a footer strip for Herriman's comic strip The Dingbat Family (aka The Family Upstairs)… this series aims to reprint that entire series, along with all Herriman's other dailies (the first volume includes the entire runs of Herriman's daily strips Baron Mooch and Gooseberry Sprig!).
Also cool about these Herriman reprints, these strips are reprinted at the full size they appeared in the newspaper, which is BIG. You'll probably want this on the same shelf as your Complete Segar Popeye series from Fantagraphics!
Note that they are also selling A Supplement to The Yellow Kid which is presumably a supplement to the currently out of print (although still relatively inexpensive) R.F. Outcault's the Yellow Kid: A Centennial Celebration of the Kid Who Started the Comics.
4) The Pacific Comics Club (pacificcomics.com) also offers a variety of small press reprints of stuff that you won't find elsewhere.
They also have a series of Herriman books, these ones reprinting Herriman's Krazy Kat dailies (full disclosure: George Herriman is probably my favorite cartoonist of all time). Wonderful stuff… unfortunately, the Krazy Kat strips are reprinted at a very small size… they are well worth owning regardless, seeing as you can't currently get them anywhere else.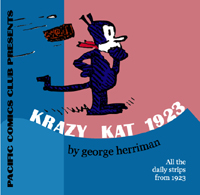 Pacific is also carrying the gorgeous and long out-of-print 2 volume set of Cliff Sterrett's Polly and Her Pals reprints that came out from Remco in the 80's… don't miss these. Sterrett is a master… Polly and Her Pals is expressionistic, beautiful and hilarious… it is one of the greatest comic strips of all time. The cheapest used copy they have on Amazon is over twice the price.
5) Sunday Press Books (sundaypressbooks.com) recently produced an enormous book of Winsor McCay's Little Nemo in Slumberland, published at the actual size the original strips appeared (16×21 inches).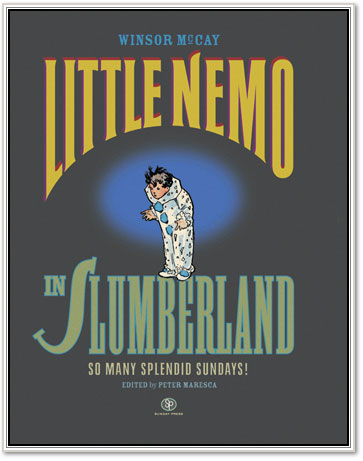 I haven't seen the book, but it has received rave reviews all over the place… apparently, the strips look better than they ever have before (including than they did in the newspaper 100 years ago). They are planning a second volume. They are also planning a collection of McCay's Little Sammy Sneeze.
Besides the McCay reprints, they are planning additional projects in this enormous format include a reprint of Gasoline Alley Sundays called Sundays With Walt and Skeezix designed by Chris Ware, and a 7 or 8 volume collection of miscellaneous old newspaper comics… I gotta start saving my pennies… read more here.
6) Checker Books (checkerbpg.com) I've been buying their comprehensive reprinting of Winsor McCay's Early Works (8 volumes so far), and it looks like they are adding an oversized Little Nemo reprint, an oversized Dream of the Rarebit Fiend Saturdays reprint, and an oversized book of some of Winsor McCay's Editorial Works.
Even more exciting (to me) they are starting a series of books reprinting miscellaneous Dr. Seuss editorial cartoons and illustration work. They also are reprinting Flash Gordon, Steve Canyon and Dick Tracy (the Max Collins stuff rather than the Chester Gould).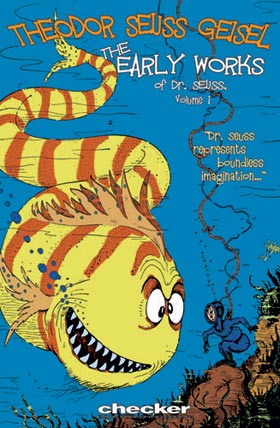 7) IDW Publishing (idwpublishing.com) recently started publishing a complete set Chester Gould's bizarre and stylized Dick Tracy.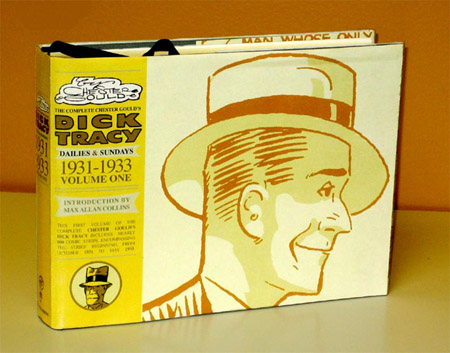 8) Lee Valley (leevalley.com) Here's a weird one. Lee Valley offers reprints of Out Our Way, Our Boarding house with Major Hoople, and The Bull of the Woods, as well as cowboy and US Calvary cartoons… and a whole lotta books on woodworking. Go figure.
9) NBM Books (nbmpub.com), an excellent comics publisher probably known mostly for their reprints of modern European comics (they've reprinted some great Lewis Trondheim, Joann Sfar and Jacques Tardi books… and they are the major publisher of underrated American cartooning genius Rick Geary) appears to be getting into the comic strip reprinting game… they have a reprint of Mutt and Jeff (the first daily comic strip) listed on Amazon. Here's an article about the reprint (the strip was originally titled A. Mutt).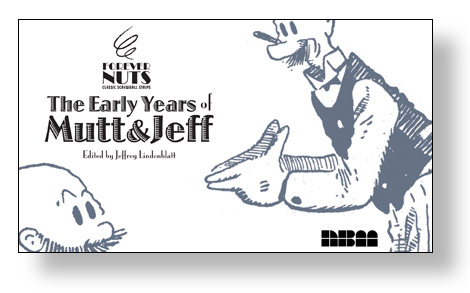 Digressing, here's an interesting bit of comics history about Mutt and Jeff. The Mutt and Jeff comic started in the sports section of newspapers, and part of the reason it became hugely popular (besides the fact that it was really funny) was that apparently some people thought you could get tips on what racehorses were destined to win from the strip.
10) Hogan's Alley magazine regularly reprints a chunk of classic comics that you won't see anywhere else. It is the closest thing out there right now to the sorely missed Nemo Magazine published long ago by Fantagraphics, which had a wealth of comics history in it (you can still hunt down back issues of Nemo pretty cheap on Ebay).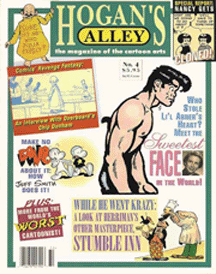 11) DC Comics (dccomics.com) has a series called DC Archives that reprints mostly various Time-Warner-owned properties. Some highlights of this (in my view) are Will Eisner's excellent series The Spirit (which is actually not a Time-Warner property, as far as I know), Mad (only one volume so far, alas), Plastic Man, and Captain Marvel (Shazam!). Lots of good obvious stuff too, like Superman and Batman. I wish they'd reprint Fox and Crow!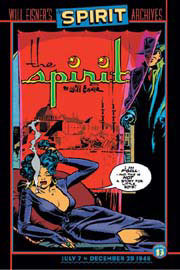 Unfortunately, these books are awfully expensive… around 50 bucks each, depending on the volume. They really need to put these out in paperbacks.
Note that although they have only reprinted one issue of Mad as a book, they just released every issue of mad on a DVD set.
On the subject of complete magazines on DVD, you can get the Complete Cartoons of the New Yorker this way as well, or the Complete New Yorker if you want to get more than just the comics. I heard somewhere recently they were going to put out the complete Playboy magazines & cartoons this way as well.
12) Marvel Comics (marvel.com) has two reprint series of their stuff… their Marvel Masterworks series and their Essentials series. The Essentials series is no frills, black and white, phonebook-like, and cheap. The Masterworks series is color, slick, and mostly hardcover and overpriced like the DC Archives. However, they recently reprinted some paperback Masterworks volumes with Barnes and Noble that are VERY cheap… especially when you find them on the discount shelves at Barnes and Noble. Highlights of this stuff (in my view) would be the Ditko/Lee Spiderman, the Kirby/Lee Fantastic Four and the Steve Gerber Howard the Duck (only available as an Essentials volume).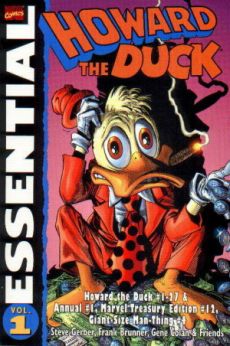 It is worth noting, that, although the paper of the essentials volumes is cheap and will probably deteriorate rapidly over time, a lot of this stuff looks better to me in black and white than color (a lot of the coloring they are using just looks unpleasantly garish on slick paper).
Marvel has started to explore complete DVD collections of their archives as well… here's the complete Spider-Man on DVD.
13) Dark Horse Comics (darkhorse.com) is currently doing a great, very affordable reprint series of John Stanley and Irving Tripp's Little Lulu. They've also reprinted some great old Japanese comics, including Osamu Tezuka's Astro Boy and Kazuo Koike's Lone Wolf and Cub. They also published the reprints of Bob Burden's Flaming Carrot, which, while not that old, is a classic comic in my view.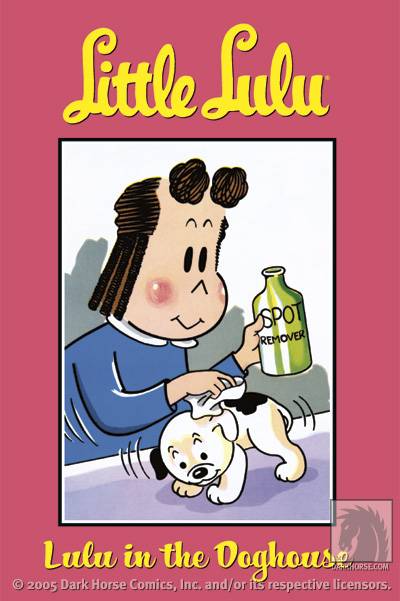 14) Russ Cochran, who has done a number of wonderful reprints of the output of EC Comics in the past has started a new series of full-color hardcover reprints of them. He's starting this series with reprints of Weird Science and Shock SupenStories.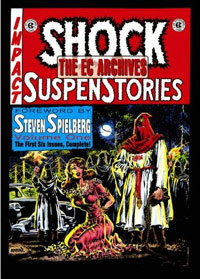 15) American Comic Archive (americancomicarchive.com) is publishing a magazine called Big Fun, which reprints some classic adventure comics including the Leslie Turner Captain Easy.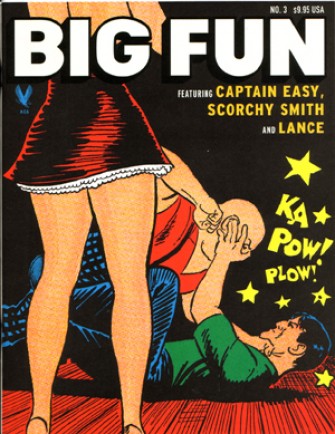 16) Rick Norwood's Manuscript Press is the publisher of long-running strip reprint magazine Comics Revue.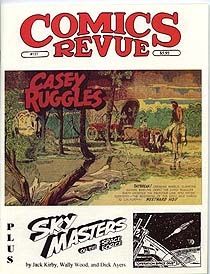 If you are planning to buy some of these books (and aren't planning on doing it directly from the publishers), you should really check out Bud Plant, as they have the world's most mouth-watering catalog of wonderful comics-related and other art books, many at insane discount off of the cover price, and for every $100 you spend they give you $10 off your next order. They also have a lot of signed books with special bookplates that you can get nowhere else… and generally these bonuses cost no more than the regular price of the books. They carry the majority of the stuff mentioned in this article, as well as a number of great reprint books that are long out of print, like volumes of the Kitchen Sink Press reprints of Al Capp's Li'l Abner.
Another resource is Ken Pierce Books (kenpiercebooks.com), which offers a number of strip reprints for sale… I don't believe they published any of them, but they may have. Again, Bud Plant I think is probably the best resource for getting a bunch of this stuff in one place, but this site may have some stuff that Bud Plant doesn't.
Isn't Amazon really making enough money off of all of us as it is? Please consider supporting your local comic book stores as well whenever you make comics-related purchases… if you don't support them, they disappear.
That said, I haven't seen this Krazy Kat dailies 1918-1919 reprint (published by Stinging Monkey Press, now defunct) available anywhere recently except for Amazon. I can't get enough Kat, as you may have noticed… so I'll also mention that there is a wonderful Krazy Kat: The Comic Art of George Herriman book which provides a great overview of Herriman published by Abrams and co-edited by Patrick McDonnell (author of the best comic strip in today's papers, Mutts).
Want to read these books and can't afford them? I can relate! Thank heavens for the public library. Did you know if you request books and other materials from your local public library, they will often buy them? My public library even has a form on their website for such requests. It's likely your library does also.
Request the comics you want to read at your local library and you do all of the patrons of that library a favor by spreading the good comics love. Although it has improved greatly in recent years, most libraries do not have nearly the comics collections that they should… help them find the good stuff!
I'm sure there are some good reprint projects I haven't heard about… know of any? Let us hear about them in the comments!
UPDATE: Dirk Deppey of The Comics Journal and the excellent ¡Journalista! blog pointed out another reprint publisher on the Comics Journal Message board… here it is:
17) Classic Comics Press (classiccomicspress.com) is currently publishing reprint books of Leonard Starr's Mary Perkins On Stage and Gus Edson and Irwin Hasen's Dondi. I'm not particularly familiar with either strip, but the examples of Dondi I've seen seemed pretty good. On Stage has a lot of rave reviews here, including one from the aforementioned Mr. Deppey.
Thanks for the heads up Dirk!
UPDATE #2: I thought of another one I forgot…
18) Pure Imagination has offered reprints of works by Basil Wolverton, Jack Cole, Jack Kirby, Steve Ditko, Alex Toth and more. Their Wolverton reprints are quite wonderful… I wish someone would do a complete reprinting of everything Wolverton ever did. If they have a website, I sure can't find it. You can see a list of some of their output here, and there is a wikipedia entry about them here.