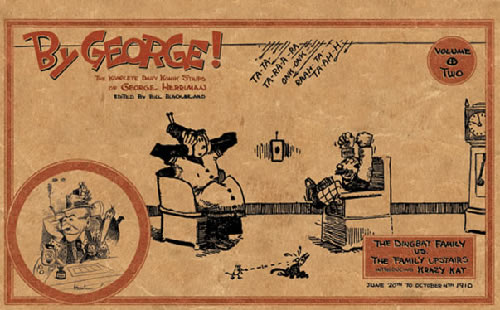 Going through some old email, I ran across this old post from comics historian Bill Blackbeard to the Yahoo PlatinumAgeComics group that I had missed previously… in it he deliniates his grand scheme for his George Herriman reprint projects. Here's what he said (circa April 29, 2004… so some of this may have changed):
By George. the Komplete Daily Komic Strips of George Herriman, edited by the undersigned, is indeed up for sale at Andy Feigery's Spec Productions, retailing at $24.95. It's a whopper of a book, the extreme outsize dictated by the need to properly showcase the original daily strip episodes so that all of Herriman's often miniscule (and very funny) detail can be seen clearly. The three complete strtps included are Herriman's first newspaper dailies: Mr Proones, Baron Mooch, and Gooseberry Sprigg, the Duck Duke (where we get our first look at Coconino County). 54 gigantic pages on antique cream stock to catch the cachet of old newsprint, opening from the top to facilitate reading ease. The next volume, due in three months, will carry a large swatch of The Dingbat Family/The FamilyUpstairs daily, which followed these first three titles into newsprint, again to be printed in large format to catch the details previously crammed into (and sometimes lost) in the shabbily printed Hyperion title. More volumes will cover the rest of the Dingbat epic and — of course — all of the initial years of the Krazy and Ignatz opus underfoot, then include all of Stumble Inn and Baron Bean, to turn to the last great daily, Krazy Kat itself. (Fantagraphics will, as planned, publish all of the kolor kat tabs from 1935 thru 1944 in a fine series of volumes, and will fit the Sunday Stumble Inn pp into odd corners of these titles. The handful of little known dailies not yet mentioned will be included in the Spec volumes over time (such as Mary's Home From College and the like). Herriman's illustrations for the archy & mehitable titles will not, however, be included, since they are an integral part of the don marquis text, which is widely available in several editions in the used book market. The KK dailies now being published in odd volumes and magazines roundabout will all be eventually included in the By George series, needless to say. Introductions and commentary to upcoming volumes will be solicited from our old pal Allen Sundry, so get ready to get into line, guys and gals! (This includes our own too long Eclipsed kat, of course.)

Best,
Bill B.
Currently the first five volumes of By George! The Komplete Daily Komics of George Herriman are currently available from Spec Productions, as are Krazy & Ignatz volumes 1-8 from Fantagraphics. This takes the Sunday Kat reprints up to 1940, if you include the previous series from Eclipse (that Fantagraphics will be reprinting the contents of with additional material (Stumble Inn) after the next 2 volumes are complete).