The first part of the penultimate chapter of Kevin Cannon's fantastic online epic graphic novel of arctic adventure and treachery, Far Arden, is now online here! The final chapter is coming on Valentine's Day if all goes according to plan (followed by an epilogue). After that Kevin finds a publisher and the awards start coming in.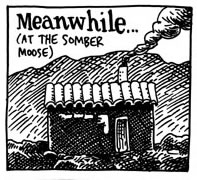 Click the above image to start reading at chapter thirteen (a goddamn fool thing to do if you haven't read the previous stuff).
Click here to start at the beginning.
Click here to read the 12-page bonus chapter, Eglinton Island.
Click here to read more about Kevin Cannon's mad, mad project.
Click here to give Kevin kudos Big Time Attic blog comments.