Above: Tim Sievert's contribution to the Comix Issue.
The second annual City Pages Comix Issue that many Cartoonist Conspirators contributed to is out today! The theme was "When the Elephants Come to Town," which is a reference to the Republican National Convention in St. Paul this year. Many items that did not fit in the issue were included online. The print issue will be all over the Twin Cities for the next week.
I have a cartoon in the issue… you can view it directly by clicking the above image.
A lot of good stuff… particularly notable, as usual… Kevin Cannon has contributed another one of his enormous, chicken-fat-filled cartoons: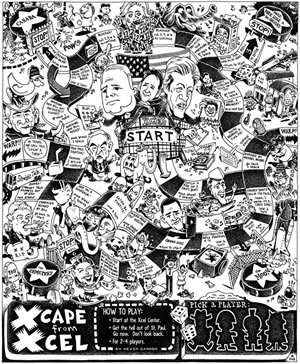 Click the images to go to the City Pages Comix Issue, and see the above cartoon much, much larger!
Note that you can leave comments on the feature on the City Pages website here.
UPDATE: The City Pages Comix Issue was just featured in the Comics Reporter here.