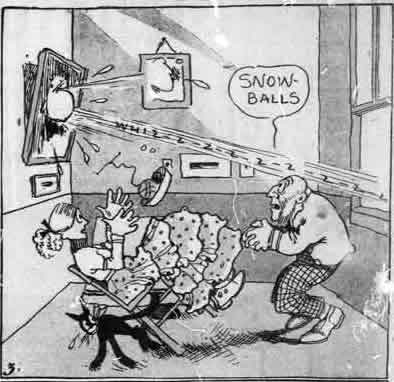 I make it no secret that George Herriman is my favorite artist of all time… Herriman's Krazy Kat I think is the greatest artwork ever made in any medium.
This has been probably the best week ever for finding Herriman reprints online.
First of all Allan Holtz at the Stripper's Guide brought us his latest Herriman Saturday, as he does every Saturday… these posts feature an ongoing complete reprinting of early, early political and other cartoons from the Los Angeles Examiner by Herriman.
Next our friends at Barnacle Press (easily the best place to read ancient comics online) posted numerous examples of two early, extremely rare Herriman strips, Major Ozone's Fresh Air Crusade and The Two Jolly Jackies. Note in the earliest Ozone strip presented from 1904, we already have a very familiar looking Kat inhabiting the bottom of the strip (a preview of which is pictured above).
Barnacle Press also pointed us to The Ignatz Archive, an online smörgåsbord of a whole bunch of rare early Herriman strips!
To top things off, I Love Comix printed a great Krazy Kat Sunday and Mark Kausler ran another wonderful bunch of Krazy Kat dailies (which he has been doing for some time now).
I can't wait to have the time to read all these treasures!