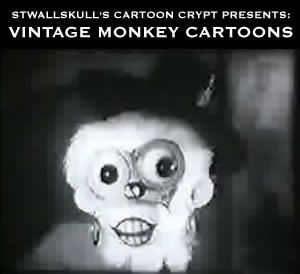 Welcome to my ongoing directory of vintage monkey cartoons from around the web. The below list is in order alphabetically by studio or author, and then by date.
Please note that for the sake of these cartoons, and our amusement, 'monkey' includes all primates that have hair all over their bodies. Yes I know a gorilla is not technically a monkey, Mr. Smarty-smart-smart… but I'll call it a monkey if I damn well please! This ain't National Geographic!
The above image comes from Len Lye's Peanut Vendor.
If you know of other vintage monkey cartoons you think should be on this list, please let us know in the comments below or via email.
Please note that you can subscribe to the STWALLSKULL blog here to receive my posts on cartoons and comics on a regular basis. See the homepage of the STWALLSKULL blog here.
Enjoy!