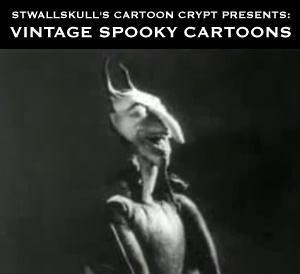 Welcome to my ongoing directory of vintage spooky cartoons from around the web. The below list is in order alphabetically by studio or author, and then by date… it will be updated regularly, so please do check back.
There is an emphasis in this list on cartoons featuring skeletons, devils and ghosts, but there are other creepy characters featured in them as well.
The above image is the devil from the Ladislaw Starewicz's stop-motion animated masterpiece The Mascot (which also prominently features a monkey for you vintage monkey cartoon fans).
If you know of other vintage spooky cartoons you think should be on this list, please let me know in the comments below or via email.
Please note that you can subscribe to the STWALLSKULL blog here to receive my posts on cartoons and comics on a regular basis. See the homepage of the STWALLSKULL blog here.
Enjoy!
Mickey Mouse and The Haunted House (1929) (Disney)
Hell's Bells (1929) (Disney – Silly Symphony) – NOTE: No longer available online.
The Skeleton Dance (1929) (Disney – Silly Symphony)
Mickey Mouse in The Gorilla Mystery (1930) (Disney)
Egyptian Melodies (1931) (Disney – Silly Symphony)
Mickey Mouse in The Mad Doctor (1933) (Disney)
Pink Elephants on Parade (excerpt from Dumbo (1941)) (Disney)
The Inkwell Imps in Koko's Haunted House (1928) (Fleischer)
Swing You Sinners (1930) (Fleischer)
Bimbo's Initiation (1931) (Fleischer)
Betty Boop in Minnie the Moocher (1932) (Fleischer)
Betty Boop's Halloween Party (1933) (Fleischer)
Betty Boop in The Old Man of the Mountain (1933) (Fleischer)
Betty Boop in Snow White (1933) (Fleischer)
Popeye in Shiver Me Timbers (1934) (Fleischer)
The Cobweb Hotel (1936) (Fleischer – Color Classics)
Flip the Frog in The Cuckoo Murder Case (1930) (Ub Iwerks)
Flip the Frog in Spooks (1932) (Ub Iwerks)
Jack Frost (1934) (Ub Iwerks – ComiColor)
Skeleton Frolic (1937) (Ub Iwerks)
The Peanut Vendor (1934) (Len Lye)
Felix the Cat in Skulls and Sculls (Otto Messmer)
Scrappy in Let's Ring Doorbells (1935) (Charles Mintz)
Ugokie-Ko-Ri-No-Tatehiki (1933) (Ikuo Oishi)
The Mascot (1933) (Ladislaw Starewicz)
Good Little Monkeys (1935) (MGM – Happy Harmonies)
Bottles (1936) (MGM – Happy Harmonies)
Who Killed Cock Robin? (1933) (Terrytoons)
Spinning Mice (1935) (Van Beuren)
Buddy the Detective (1934) (Warner Brothers)
Porky Pig in Jeepers Creepers (1939) (Warner Brothers)