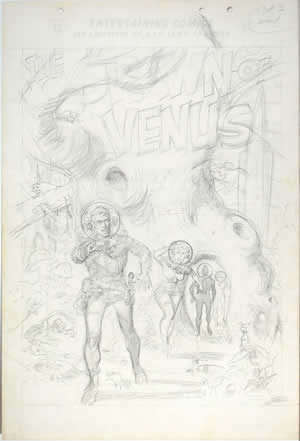 It's pretty amazing the treasure you can find on Ebay without even buying anything. I'm talking about the images that get posted there. Like these ones. Here are the images for an auction I ran across here for the complete pencils for an unfinished Wally Wood story for EC comics. Here is what the auction description says about them:
WALLY WOOD (1927 – 1981) graduated from New York's School of Visual Arts, and was an early assistant on THE SPIRIT. His early work includes romance stories for Fox and science fiction stories for Avon, which led to his joining the EC staff in 1950, where he usually worked on the science fiction titles, while also contributing some amazing work to SHOCK SUSPENSTORIES. After the Comics Code came into effect, Wood continued to contribute to MAD, while also moving on to Marvel, where he worked on early issues of DAREDEVIL and THE AVENGERS. In the late '60s, Wood joined Tower Comics as art director, where he created T.H.U.N.D.E.R. AGENTS. He also created the sexy CANNON and SALLY FORTH for Overseas Weekly in 1971.

This is the original pencil art for an never-finished complete 8-page story titled "The Spawn of Venus" that was slated to appear in a third issue of Three-Dimensional EC Classics, and was based on a story drawn by Al Feldstein in Weird Science #6. These pages are in very good condition with avearge wear and aging; there are also doodles and loose sketches on the backs of several pages. The pages have an image area of 13″ x 18″.
Here are the pages…
Page 1
Page 2
Page 3
Page 4
Page 5
Page 6
Page 7
Page 8
These are probably big enough to reasonably ink if printed. If anyone out there wants to ink them, I would love to link to your inking job.