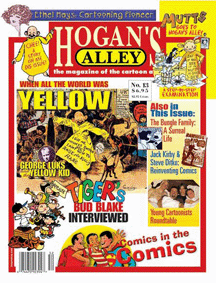 Free Comic Book Day is this weekend (Saturday, May 3rd), and it looks like there is going to be a lot of marvelous stuff available for free at comic shops around the world. In addition to the stuff in comic stores, the wonderful comics history and cartooning magazine Hogan's Alley is offering a free issue to those who email them for one on Saturday.
Here's the info:
Mark your calendars for this Saturday, May 3: Free Comic Book Day!
Send us an e-mail ON THAT DATE with your mailing address, and we'll
send you a FREE issue of Hogan's Alley! No obligations, no strings
attached; the only thing it will cost you is several hours as you
enjoy the issue. (This offer is valid for all U.S. residents, whether
you're a current subscriber or not.) Remember the one condition–we
must receive your e-mail request on Free Comic Book Day, not the day before or the day after.
The email address is hoganmag at gmail dot com.