Kirk Taylor of the previously mentioned Taylor-Morse Collection website sent a couple of very interesting scans to share. First of all, here is an article from a 1915 issue of Cartoons Magazine, about a jam drawing made by a number of cartoonists including Carl Edward "Bunny" Schultze (Foxy Grandpa) and Claire Briggs (Mr. and Mrs.. I'm happy to report that I recently scored a stack of his wonderful work that I will scan and post here eventually. You can see a large sampling of his early work at Barnacle Press here.). Click here to read the article.
Second of all, Kirk sent a wonderful Billy DeBeck tutorial called "A Few Hints on Pen Handling." Apparently, DeBeck did a regular series of tutorials in Cartoons Magazine… boy would these make a great book. If anyone has more of these to post, I would sure love to post them. I'm definitely going to harass Kirk for some more!
About these, Kirk says:
Cartoonists of the '20s were a clubby bunch,
I've been surprised at the camaraderie among them,
guys like DeBeck serving as mentor to so many younger
unknowns. He'd even invite unpublished comikers from
across the country to write into him from his
instructional editorials in Cartoons Magazine,
encouraging them to submit samples.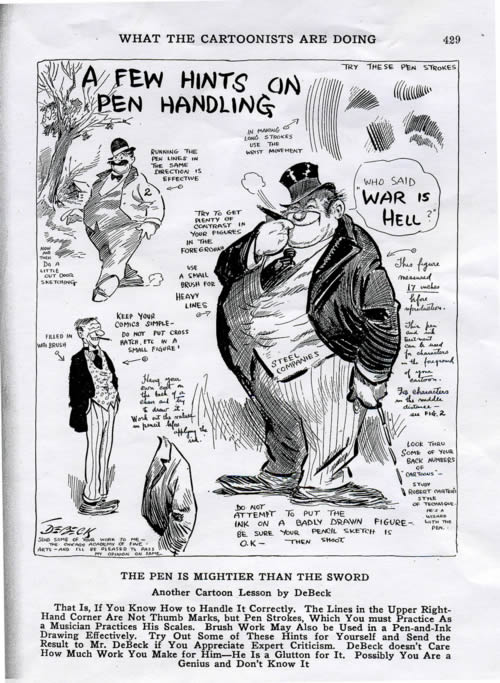 Click the image to see a larger version.
Go here to view scans from the January 1916 Cartoons Magazine at the ASIFA Animation Archive.
Here is a large collection of Cartoons Magazine from 1915 at Google Book Search… wish the resolution was a little better, but still a treasure trove.
Read examples of Billy DeBeck's Barney Google at Barnacle Press.
Read STWALLSKULL's previous posts on Billy DeBeck and Barney Google.
Check out the Yahoo GoogleGang group that sporadically posts Barney Google strips.
Read more about Barney Google at Toonopedia.