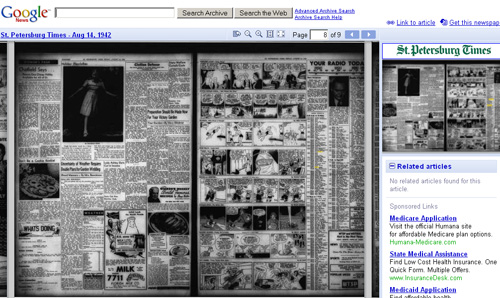 Check out this article about how Google now plans to digitize historical newspapers and put them online. This is great news! I posted a letter I wrote to them here a number of months ago requesting that they do this… so now I take full credit for this idea! Seriously, though, this is thrilling news for comics fans… now I just hope that they do it right, and focus on scanning original newspapers rather than relying solely on microfilm and microfiche reproductions.
Here is an example of a comics page in one of the example papers they have posted. Obviously, one can't be too picky about what gets digitized… much of the time there is only going to be one option for source material.
It appears a number of issues of the St. Petersburg Times have been added, comics and all.
I haven't figured out a good way to search through this stuff for comics yet, although I'm sure the service will improve with time. The scans leave a lot to be desired… these appear most likely to have been reproduced from microfilm.
Hopefully they will include multiple copies of particular dates in their archives, so missing pages, varying quality and varying editions will be accounted for.
It is buggy right now, and there is clearly a lot to be desired, but this is still huge news for fans of classic newspaper comics.