Allan Holtz at the excellent blog The Stripper's Guide (which, if you follow this blog, you have probably noticed I link to it almost every day I post) had a special offer the other day… he was giving away three free month-long memberships to newspaperarchive.com. Anyhow, I wrote him quick and I got one. Thanks, Allan!
I was just exploring it a little bit, and found the below article from the June 1, 1920 New Castle News. Ironically, the two issues of the New Castle News that I just explored had the comics cut out of them (other than George McManus's Bringing Up Father, which was on it's own page). I would guess most of the New Castle News editions on the site are that way if some of them are… presumably a comics fan or comic strip dealer "strip mined" the comics out of them before they were scanned, which is not at all an uncommon scenario (I would approximate that 60-70% of the bound books of newspapers that come up on Ebay have been cannibalized this way). Sunday editions appear to be entirely missing.
Strangely, this article seems to be referring to the comics section of The Pittsburg Press… I am not sure what the relationship was to The New Castle News. This is most likely an ad for a paper owned by the same company, I think.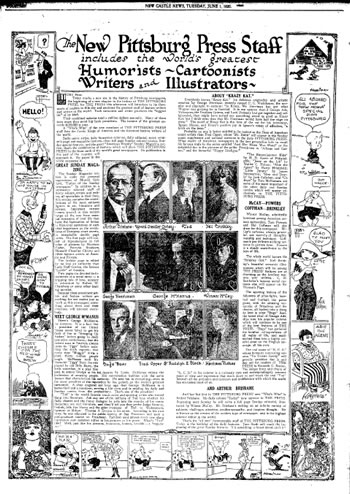 Anyhow, the cannibals missed this article, so, enjoy! Click the image to download a pdf of the page. It is titled The New Pittsburg Press Staff Includes the World's Greatest Humorists Cartoonists Writers and Illustrators. It has art by and photos of Herriman, McManus, Opper, Hershfield, Tad and many others… although, as I said, the quality is absolutely terrible.
The papers at newspaperarchive.com are simultaneously fascinating and heartbreaking… there is so much to see, but the artwork and text is all converted to vector art (and in most or all cases, they were first mutilated into microfilm or microfiche, and then to vector art)… the quality is abysmal, but the strips can usually be deciphered for their codified meaning with some patience, like the dead sea scrolls.