TODAY'S FEATURED ITEM: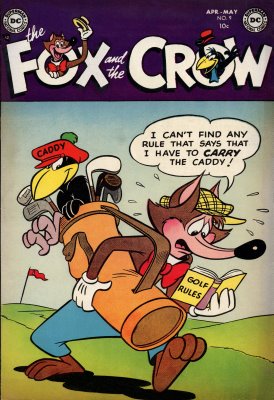 The Crosseyed Cyclops has a big stack of issues of DC's series The Fox and the Crow available here. The series was based on characters created by Frank Tashlin for Columbia's Screen Gems cartoon series (you can see some of the cartoons here).
Fox and Crow started their comic book career in the pages of DC's Real Screen Funnies, but were popular enough to eventually graduate to their own series, which ran until 1968.
In spite of their popularity they are mostly forgotten today… which is a shame, because their comics (and cartoons) are usually wonderfully executed and frequently hilarious. I don't know much about the creative teams on these books, but Don Markstein's Toonopedia credits them primarily to artist Jim Davis (obviously not the Jim Davis of Garfield fame) and writers Hubie Karp and Cecil Beard.
Read more about Fox and Crow on Wikipedia.
Read more about Fox and Crow at Don Markstein's Toonopedia.