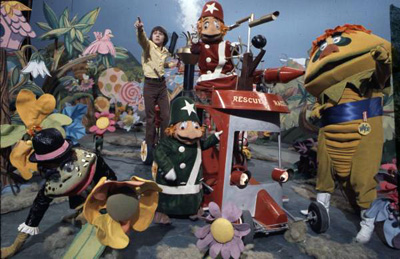 HR Pufnstuf image courtesy of the Life Magazine image archive on Google.
This is not a review of the Where the Wild Things Are movie. I haven't seen it. I'm not going to. So, if you are inclined to see it, you may very well want to ignore this rant.
I love Sendak's Where the Wild Things Are… but I have no interest in seeing it turned into any full-length movie, regardless of whatever quality said movie may or may not have. Two hours of rampaging fursuits could never be as charming to me as Sendak's sparse 48-page masterpiece.
While the filmmakers sound considerably more well-intentioned than the evil shits who have made "adaptations" of Seuss in recent years (the adaptation is written by Dave Eggers, the instigator of the wonderful McSweeney's), the concept of turning Wild Things into a full-length, live action movie just doesn't work for me.
The trailer, which I regret morbid curiosity beckoned me to watch, made me kind of queasy to look at (the atrociously inappropriate music didn't help). Maybe if it was animated and 15 minutes long, it would be more appealing. And unmarketable, of course.
There is always the argument (a good one) that however awful an adaptation, the book is still on the shelf… which is true enough. Certainly, some works are enhanced by different interpretations… Alice in Wonderland, for example, has been reinterpreted hundreds of times and is much richer for it.
Wild Things is too personal of a vision to be improved on by this sort of reinterpretation, in my view. It seems sad to me that some kids will grow up with memories of this movie instead of the brilliant book.