Here's a Happy Hooligan strip by Frederick Opper from 1904… click the image to see the strip.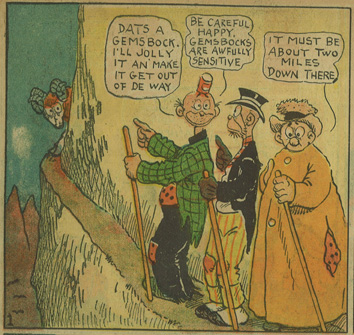 Pictured in the panel above we see (besides the gemsbock), from left to right, Happy Hooligan and his brothers Montmorency and Gloomy Gus.
In spite of being easily one of the most popular comic strips of its era, Happy Hooligan, as far as I know, has only been the subject of ONE modern reprint book.
As usual, esteemed comics historian Bill Blackbeard was the culprit… he had a Happy Hooligan volume in his wonderful Hyperion Library of Classic American Comic Strips book series from 1977.
I don't believe Opper's other strips (which were also quite popular… Alphonse and Gaston, and And Her Name Was Maud) have had modern reprint books at all. There were only books that came out while the strips were still running.
This is a pretty awful oversight, as besides his massive popularity in the early part of the last centrury, Opper is a very funny cartoonist and excellent artist. You can also see samples of Opper's work in some comics history overviews, like The Smithsonian Collection of Newspaper Comics and 100 Years of Comic Strips (both wonderful books also edited by Blackbeard).
How funny is Opper? Happy Hooligan wears a tin can on his head for a hat. A tin can! That, my friend, is genius.
Here's a fragment of the February 15th, 1903 Happy Hooligan strip… click the image to view it.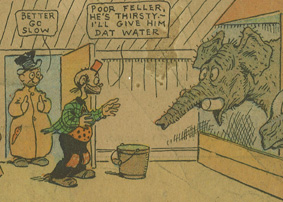 Here's what Don Markstein's Toonopedia has to say about Happy Hooligan.
I'll be reprinting some more Opper stuff that I've scanned in the coming weeks, among other things.