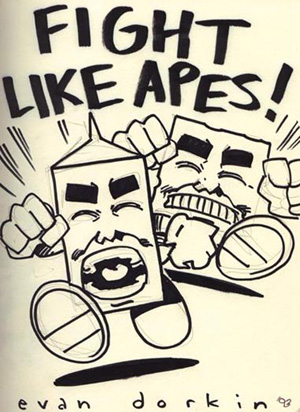 Click the above image to go to a larger version on the site I found it on.
Evan Dorkin's probably best known for Milk and Cheese, the above pictured "Dairy Products Gone Bad." Those strips are funny, although formulaic (as Dorkin certainly admits) and are best in small doses. I much prefer his varied strips in his ongoing comic Dork!. He's not only consistently funny, but he frequently packs his pages with enough panels to make your eyes bleed and enough gags to make you seek the heimlich maneuver. My favorite comics I've read by him are his hilarious strips about the Eltingville Comic-Book, Science-Fiction, Fantasy, Horror, and Role-Playing Club… which you should really not miss if you grew up obsessed with any of the subjects in the Eltingville club's moniker.
Click here to go to Evan Dorkin's (and Sarah Dyer's) House of Fun website.
Click here to go to Evan Dorkin's blog.