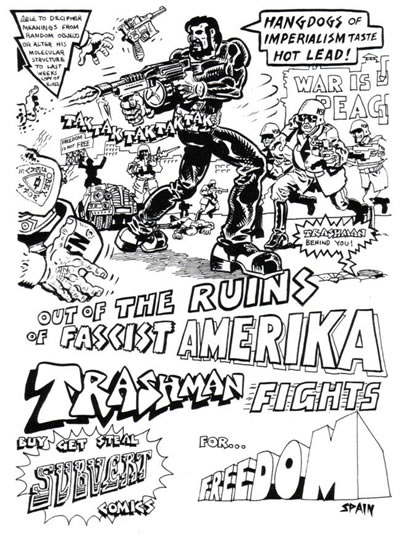 Click the above image to see the full-size image on the site I found it on.
Spain Rodriguez got his start as one of the Zap crew of underground cartoonists in the late 60's. Spain's Trashman and Big Bitch are a lot of fun, but he really shines in his wild autobiographical strips. Spain has lived a very interesting life, and his true life stories are full of humor, violence and mayhem. Many of his autobiographical strips have been collected in his book My True Story… his autobiographical strips also appear regularly in the excellent anthology Blab! His historical strips (many of which are also included in My True Story) are quite wonderful as well. His art is made for black and white, and graphic in every sense of the word… something like a cross between EC Comics, old Russian poster art, Jack Kirby, and cheap beer.
Click here to go to Spain's website.
Click here to read the lambiek.net entry on Spain Rodriguez.