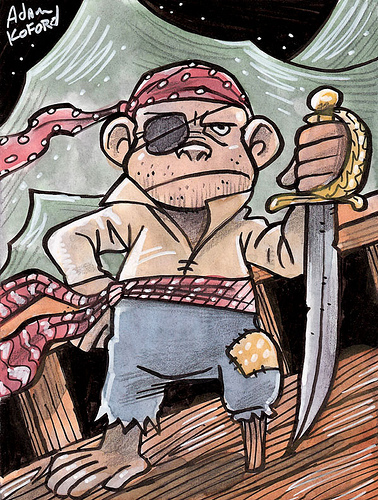 Pictured above: Tiny Pirate, Monkey of The Seven Seas, drawn by Ape Lad
Ape Lad (aka Adam Koford) is easily the most prolific cartoonist in the previously mentioned 700 projects… he is also by far one of the best. He actually drew versions of all 700 of the 700 hobos single-handedly… and then drew 100 more!
When he isn't participating in the 700 projects, what does he do? He draws, apparently! Check out his wonderful Hobotopia blog here. He is currently drawing comissioned monkey postcards, and they are all quite wonderful… and cheap! Only 20 bones, you provide a name and he draws it, full color. I'm ordering mine tonight. Bingo Bango and his Magic Fez, if you were wondering.
Also notable: Ape Lad has invented an interesting cartoonist parlour game… the one hour alphabet. His one hour alphabets are much, much better than the vast majority of a-z children's books that I've read (and believe me, I've read a LOT of them in the last year)… and he did them in an hour! I gotta try that game some time.
To see much, much more of Ape Lad's work, here is a link to his huge, amazing flickr pool.