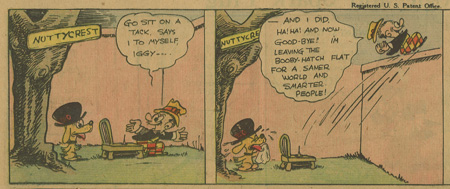 Click on the above image to see the full Count Screwloose strip I scanned from November 23, 1930. Rudy Megaphone is a satire of singer Rudy Vallee, by the way.
Milt Gross' comics drip slapstick. I don't think Milt Gross aspired to do much with his comics other than make people laugh… and he was very good at it. That said, he wrote what may be the first graphic novel, She Done Him Wrong (a.k.a. Heart of Gold… recently reprinted by Fantagraphics). I wish someone would do a nice big reprinting of his newspaper work. Don't miss the ASIFA Hollywood Animation Archive link below… great stuff!
See a number of great scans of Milt Gross comics at the ASIFA Hollywood Animation Archive here.
See some Milt Gross comics on Bugpowder here.
Read the Toonopedia entry on Milt Gross here.