Reader Paul Morris asked in the comments if I had any examples of the Smythes by Rea Irvin (the man who created Eustace Tilley). I don't. But looking around a bit, Hogan's Alley has a great selection of them. Apparently these are web extras to the 13th issue of the excellent comics/animation art and history magazine Hogan's Alley (I don't have a copy yet, alas), which has a feature on The Smythes.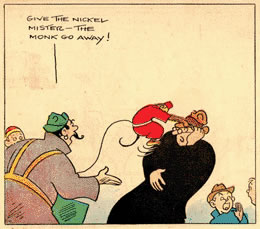 Lambiek has this on the Smythes.
Here is an interesting article from a 1930 issue of Time Magazine on the strip's debut.
Looking around the Hogan's Alley site, they sure have been putting up a lot of great web extras lately… W.O. Wilson's Madge, the Magicians Daughter is absolutely gorgeous… do yourself a favor and don't miss that one. There's a whole lot of other treasure there as well… have fun!
Issue 15 Extras
Issue 14 Extras
Issue 13 Extras
Issue 12 Extras
There's a lot of other great stuff linked from the Hogan's Alley homepage as well.