Here's an example I scanned from October 2nd, 1904 of Little Sammy Sneeze by Winsor McCay.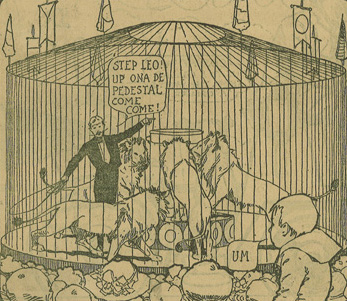 Click the image to view the full strip.
Click here to read more examples of Little Sammy Sneeze at Barnacle Press.
Click here to read about Winsor McCay at lambiek.net.
Click here to buy Little Sammy Sneeze book from Sunday Press Books
Click here to read more about Little Sammy Sneeze at Don Markstein's Toonopedia.
There are too many McCay books for me to reference here… we live in wondrous times. Here is a link to the amazing McCay books from Sunday Press printed and restored at full size… big enough to be used as a blunt object. They recently did a Little Sammy Sneeze book that oh boy I gotta have someday, which also includes a lot of examples of two other marvelous strips that were printed on the backs of the Sammy Sneeze strips… The Upside-Downs by Gustave Verbeek and J.P. Benson's Woozlebeasts.