I've always liked Syd Hoff's gag cartoons and his childrens' books… Barkley, Oliver and Grizzwold are frequent reads with my three year old. Here's a selection of Syd Hoff cartoons from his book Feeling No Pain (1944) at Hairy Green Eyeball.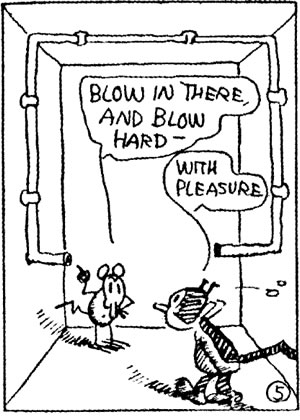 Any day I can feature some George Herriman is a good day… and these days, between the Krazy Kat dailies reprints at Comic Strip Library News and Mark Kausler's CatBlog, the Herriman Saturdays at the Stripper's Guide, and stuff that just shows up miscellaneously, I'm happy to report that this seems to happen almost every time I post.
Note that in the news on their site, Comic Strip Library News reports they have now posted the complete pre-1923 Little Nemo in Slumberland by Winsor McCay.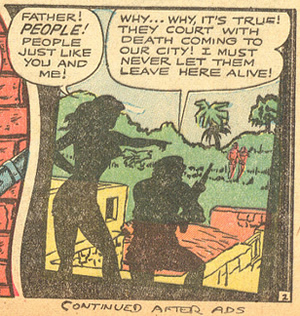 The Fortress Of Fortitude takes us on a trip to Weird City (published originally in Blue Bolt Weird Tales of Terror # 119).