Here's an example I scanned of The Strange Adventures of Pussy Pumpkin by Grace G. Wiederseim/Drayton from 1903.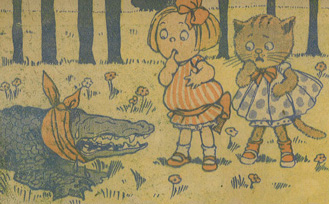 Click the image to view the full strip.
Click here to read Turr'ble Tales of Kaptain Kiddo by Grace Drayton at Barnacle Press.
Click here to read an example of Grace Drayton's The Eternal Feminine at The Stripper's Guide.
Click here to read about Grace Drayton at lambiek.net.
Read a short biography of Grace Drayton here.

Read an article on Grace Drayton here.