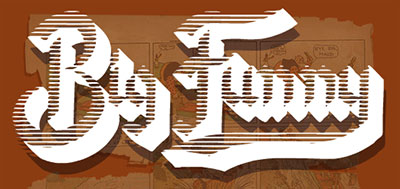 Things are moving fast… we are now a month from the BIG FUNNY deadline (May 1st). From the estimates we have received, it looks very likely that we will be able to do the whole publication in full color… so I hope participants will all strongly consider taking advantage of it!
Unless you make posters, there aren't a lot of opportunities to get printed at such a huge size and in color… I can't wait to be dazzled by what people do with it. It will be quite a unique publication… please do let all your cartoonist/poster artist/printmaker/designer/illustrator friends know about it, and encourage them to participate.
Specs and other information for the project can be found here on the BIG FUNNY website. There is also a text-only version of the information here.
I urge you to carefully read ALL of the information there before digging in, as the specs are particular… and we would really hate to have to reject people's work because people didn't follow the specs.
Here is a description of the project in the words of Kevin Cannon at the Big Time Attic blog:
So I was over at the watercooler today, and a co-worker leans over his cubicle wall and says, "Hey Kev, what's this 'BIG FUNNY' all the kids are talking about?" So I say, "Well, Doug, check the BTA blog in a few minutes and I'll tell you!"

So here's the scoop:

Minneapolis cartoonists have a tradition of curating a yearly show at the Altered Esthetics gallery in Nordeast Minneapolis. Last year we mounted Lutefisk Sushi: Volume C, which was a huge hit, had a ton of great contributors, and had an absolutely packed opening night party.

This August we're doing something a little different: Big Funny, a nod to the glorious & wacky full page (and often full color) newspaper comics of the turn of the century). Where Lutefisk Sushi asked participants to create mini-comics and gathered them all up in a BOX, Big Funny is asking people to draw a 15.5″w x 20″h comic strip (color or bw) which will then be printed in a big fat NEWSPAPER.

The Big Funny gallery show this August will have original art from the Big Funny newspaper, as well as vintage turn o' the century comics (thanks to collector extraordinaire Steve Stwalley). You'll also be able to get your hands on the Big Funny newspaper — right now we're thinking it'll be 48 pages.

Interested in having your cartoon grace one of those pages? Here's a quick guide to get you started:

1. Read through www.cartoonistconspiracy.com/bigfunny. That should answer most of your questions.
2. Create your comic. Keep these specs in mind:
* Art should be 15.5″ (wide) x 20″ (high)
* If you're doing color, make it 300 dpi
* If you're doing black and white, make it at 1200 dpi
* You can submit more than one cartoon
* All submissions must be DIGITAL
* [This is a truncated list to get you started — PLEASE read the info on the Big Funny website!]

3. Content: This show is a nod to the old-timey comics, but your comic can be any style, theme, etc. Just try to be funny (it is called Big Funny, after all)
4. Deadline is MAY 1, 2009

Unlike Lutefisk Sushi, this is a juried show, which means that some comics won't make it in the show. This has less to do with us being art snobs, and more to do with the complicated nature of putting a physical newspaper together on time and on budget.

We've already got a few submissions in (which, for a month before the deadline, is pretty outstanding), and they look great, so keep 'em coming!

If you have any questions, please read the Big Funny website. If you still have questions, please leave them in the comments section, and we'll answer them there.
Here's a BIG FUNNY chicklet for your website or blog: