TODAY'S FEATURED ITEM: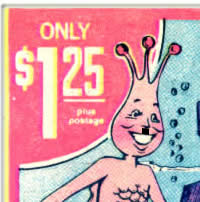 There is an interesting thread going on The Comics Journal Message Board right now discussing the sad realities of Sea Monkey ownership.
The thread directs us to this article, about how the Jewish inventor of Sea Monkeys (and X-Ray Specs), Harold Von Braunhut, used to fund white supremacist causes with the pennies he had earned from gullible children. I don't whether Sea Monkey sales still support these causes or not, but I don't think I will not be buying any more mortality-challenged brine shrimp in the future to be on the safe side.