I have work in not one, but TWO gallery shows this weekend… should be fun!
First up, tonight (April 17th)! Along with a bunch of other wood-themed art, you can see my Animation on a Stick, pictured below, at the Celebrate AE: Altered Esthetics 5th Anniversary Party. You can even buy it if you're inclined… it will be auctioned off, with all proceeds going to the gallery. To get the animations to work, you spin the stick by rubbing it back and forth between your palms. Here is what it looks like:

Here are the animations in motion…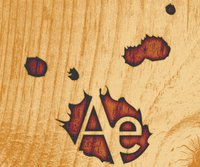 Altered Esthetics celebrates five years of serving artists with a giant bash at our home in the Q'arma building in Northeast Minneapolis in conjunction with our annual spring fundraiser.

Friday April 17, 2009 – 5pm-11pm

Everybody that joins us this Friday will receive a special super-awesome commemorative ______ to take home! (Shhh, it's a surprise.)

Please join us for a celebration and fundraiser featuring:
– A wood-themed art exhibition and silent auction
– A raffle with awesome prizes and goods from local businesses
– Live music
– Refreshments
– Wood themed games
– Awesome company
– And more!

Schedule of Awesomeness
5pm: Raffle, Silent Auction, Games, DJ
9pm: Silent Auction and Raffle ends, winners announced
9:30pm: Live Music Begins, Festivities continue, the people rejoice.
Next up, on Saturday (April 18th), you can see "Our Cast of Characters," a series of paper puppets I made for the first ever show at the new PINK HOBO gallery, The Paper Toy and Pop-Out Show. I saw a preview of some of the stuff in the show last night and it is going to be nothing short of spectacular.
Here is "Our Cast of Characters."
From left to right we have King Imp, Sir Thud, Yellowtooth the Horrendous, Mervlin the Mediocre, The Grim Jester and Princess Pouty. I may make a printable version of them one of these days if I get around to it… the ones in the show are the original drawings.
Here is what I posted about The Paper Toy and Pop-Out Show on the Cartoonist Conspiracy blog: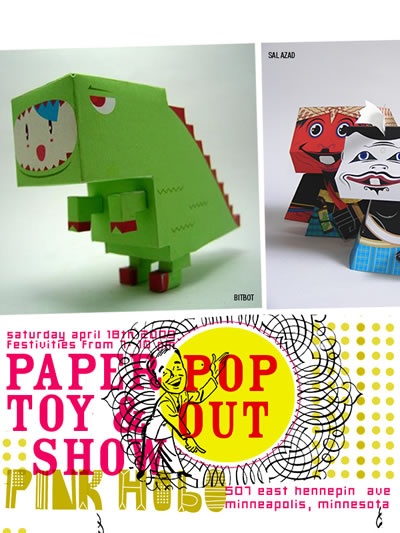 Our good friends at Puny Entertainment have their new PINK HOBO gallery opening this weekend… so, with the Altered Esthetics 5th Anniversary show on Friday, if you're in the Twin Cities, it looks like your whole weekend is planned!

Their first show is the Paper Toy and Popout show… and it looks like it will be quite a show from the impressive and international line-up of artists… they are launching with a big bang. You'll also want to check out their extremely fun-looking line-up of upcoming shows for the rest of the year.

PINK HOBO'S PAPER TOY AND POP-OUT SHOW
where: PINK HOBO 507 East Hennepin Ave
day: Saturday, April 18
time: 7pm – late