TODAY'S FEATURED ITEM: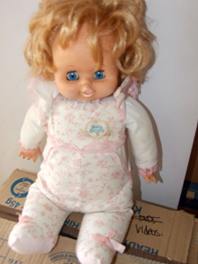 The Vintage Ads community on LiveJournal linked to a hilarious and creepy toy ad for "Baby Laugh-A-Lot," which you can go see here.
That reminded me of a hilariously creepy doll that I have down in my basement (which is the best place to keep such things, of course), that goes by the handle of Baby Secrets. I can only imagine how many nightmares were induced by this child's toy… it probably would have set a record if Guinness could keep track of such things.
Our first Baby Secrets broke, but we loved her so much we actually bought a second one on Ebay. With the second one we realized Baby Secrets had a secret… she gives different messages when you press her hand than when you press her tummy (we hadn't known about the hand trigger).
You too can horrify your friends with this treasure, thanks to Ebay. Doubt you'll have to pay more than ten bucks for one any time soon, either.
It is also worth noting that when Baby Secrets "whispers," you can hear her across the room… so don't tell her anything you wouldn't want everyone to know!
I decided to check and see if there were any ads for her out on the internet. Indeed there are some. Here they are for your viewing pleasure…
BABY SECRETS