TODAY'S FEATURED ITEM: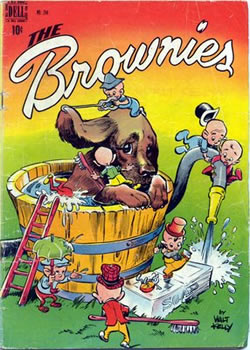 Another great issue of Four Color from Cool-Mo-Dee… Walt Kelly's Brownies. I posted a link to another issue of Brownies that Cool-Mo-Dee posted the other day as well. Walt Kelly is easily one of my top ten favorite cartoonists of all time… he is endlessly inventive, uproariously funny, and his drawings are always gorgeous. His skill at character development and dialogue is unsurpassed in comics.
In spite of his popularity, very little of his non-Pogo work has been reprinted. I'm optimistic this might change soon for some reason… partially because there are two thick books of children's comics coming out soon that will inevitably dazzle people's eyes right out of their sockets.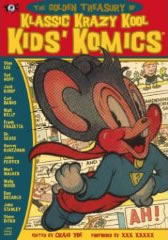 One is edited is edited by Craig Yoe and is called Golden Treasury of Krazy Kool Klassic Kids' Komics and one is edited by Art Spiegeman and Francoise Mouly called The TOON Treasury of Classic Children's Comics.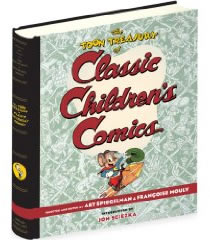 The books are going to feature a LOT of wonderful neglected childrens' comics by a LOT of great cartoonists… in addition to Walt Kelly: Carl Barks, John Stanley, Sheldon Mayer, Basil Wolverton, George Carlson, Stan Lee, Jack Kirby, Steve Ditko, Frank Frazetta, Dr. Seuss, Syd Hoff, Jules Feiffer, Dan DeCarlo, and presumably a lot more. Since Kelly is one of the best, and has an enormous body of work for children that has never been reprinted, I hope it inspires a complete reprinting of this work over the coming years.
Note that in addition to having an eagerly-awaited complete Pogo reprinting in the works, Fantagraphics books has also been reprinting Kelly's wonderful Our Gang comics (3 volumes released so far and a fourth on the way). This is currently the only Kelly work other than Pogo in print. Let's hope that changes soon.
Click the Brownies cover above to go download the comic book. Kelly also had some of the most consistently beautifully colored covers on his comic books.