Here are my recent comics…
Soapy the Chicken (updated every Monday at soapythechicken.com):
Monkey's Paw (undated every Friday at webcomix.org/monkeyspaw):
Holy Cow! MIX, the Minneapolis Indy Expo, is the weekend after this one (November 5-6)!
There are going to be a zillion great cartoonists there, and the programming looks wonderful. I'll be at table number 25, next to my good friend and Monkey's Paw collaborator Ben Zmith! Hard to believe an event like this could be free to the public, but it is, you lucky dog. Enormous kudos and gratitude to the brilliant and fashionable Sarah Morean on putting this amazing event together. If you miss it, I assure you that you will regret it until your dying day. I hope to see you there!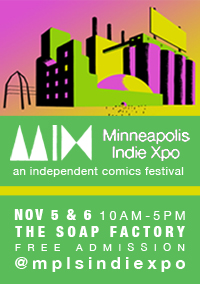 Have you ordered your calendar yet?
Hey! Are you looking for a cool art calendar for your wall next year for less than the price of a pair of chattering teeth?

Please consider supporting Altered Esthetics' Kickstarter campaign to print their 2012 calendar (disclaimer: the campaign ends in three days, none of which will be included on the calendar).

It will feature art by the brilliant Zander Cannon, among others. Zander will be the featured artist for Lutefisk Sushi Volume E, the fifth box set of Minnestota mini-comics put together by The International Cartoonist Conspiracy (in collaboration for the last two volumes with Altered Esthetics… who also collaborated with us on Just Add Ink, Big Funny, and Alley Cat among other things).

Unlike inferior digital calendars, this one can also serve to cover the unsightly holes you punched in your wall.

Altered Esthetics is not only unarguably the single greatest art gallery in the entire world that there has ever been, but it is also a non-profit, community-centered art gallery that does a tremendous amount to support not only artists, but cartoonists, in the Twin Cities area!

You're only a Lincoln away from mastering time in 2012. If Lincoln had only had one of these, perhaps the ugly night in Ford's Theater could have been avoided completely.