A few years ago, I started working regularly at Wunderman Thompson, primarily making HTML5 banner ads for Best Buy… and I've made well over a thousand of them at this point in collaboration with many other designers (such as Ben Eaton, Christopher Jacques, Heidi Keller, Christopher Marble, Megan Berray-Larsen, Jordan Rohweder, Rob Weaver, Elizabeth Hauck, Brandon Peshern and Scott Pfeil) and animators (Mark LaCroix, Keldon Ancheta, Ron Wening, and Kevin Robertson). Here is a (very) small sampling of that work.
Black November Doorbusters
Holiday Cameras
Camera Experience Shop
Back to School: Intel
Back to School: PC Gaming 1
Back to School: PC Gaming 2
Back to School: Prepaid Phones
Back to School: Printer Ink 1
Back to School: Printer Ink 2
Connected Home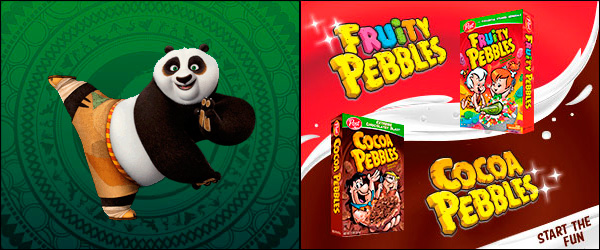 I recently built some fun HTML5 banners for Kung Fu Panda and Fruity Pebbles breakfast cereals in collaboration with creative director Brian Hurley and designer Erin Julin. Grab a bowl and a carton of milk and view some of them at the links below.
300×250 Kung Fu Panda Cereal Banner
300×600 Kung Fu Panda Cereal Banner
300×250 Fruity Pebbles Cereal Banner
970×90 Fruity Pebbles Cereal Banner
Along with these projects, I also built a fun little Fruity Pebbles New Years video in collaboration with Brian Hurley and Chris Henderson for the client's social networking purposes on the holiday, which you can view below.