Here's an example I scanned of Herr Spiegelburger aka Herr Spiegelberger from May 7, 1905 by Carl Anderson. Anderson later went on to create the wordless strip Henry, for which he is best-known.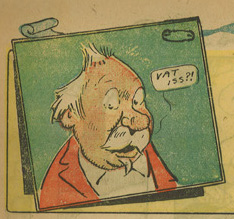 Click the image to view the full strip.
Please be advised that like many of the comic strips of the era, it contains potentially offensive ethnic depictions. If this sort of thing offends you, you may not want to view it.
Click here to read about Carl Anderson at lambiek.net.
Here is a Carl Anderson fan site with a number of Henry strips.
Somewhat improbably, Henry still exists as a King Features comic strip to this day. I don't recall ever seeing it in a modern newspaper during my lifetime.
Click here to read more about Carl Anderson's Henry at Don Markstein's Toonopedia.
You can find a couple complete Henry comic books here and here.