A lot of comic strips can be formulaic… this isn't necessarily a bad thing at all. The brilliant Krazy Kat's most basic premise is a mouse hitting a cat on the head with a brick, after all. Indeed, a number of strips have taken a limited premise and woven it into inventive strips for years, or even decades… limitations can inspire a lot of inventiveness.
No strips that I'm aware of have used as cockamamie a premise as Gustave Verbeek's The Upside Downs of Little Lady Lovekins and Old Man Muffaroo (which I wrote about previously here). Each week the mad Verbeek drew a strip where the first half was read right-side up, and the second half was read in the same panels upside-down. Most cartoonists would have had a good time with this concept one time for a lark and then moved on. Verbeek explored this insane premise for over a year (October 1903- January 1905) before going on to other things.
His other major work, The Terrors of the Tiny Tads (1905-1915), is equally bizarre, full of weird creatures and strange (and frequently violent) situations. The conceits here are that they are told in rhyming verse, and that the creatures have names where they are made of two words running into each other… like the pelicantilope and the boa constrictortoise, for example. Both of these wondrous creatures are seen below in three rare strips I scanned for you to enjoy… click on the images to read the full strips.
From March 31, 1907: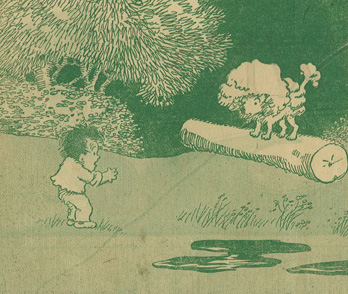 From May 1, 1910: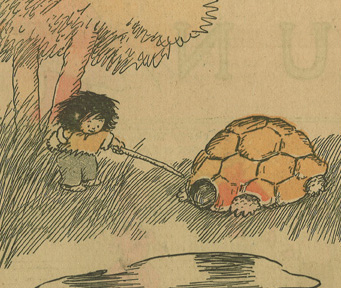 From April 24, 1910: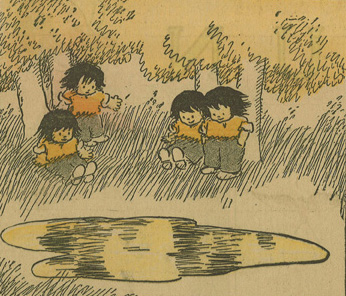 Click here to see a whole lot more Terrors of the Tiny Tads at Barnacle Press.
Click here to the wikipedia entry on Verbeek, which has some good links about him.
Click here to read the lambiek.net entry on Gustave Verbeek.
UPDATE: Marco of nonsenselit.org was nice enough to point out that he has 3 examples of another great Verbeek strip, The Loony Lyrics of Lulu, here.