Here's an example I scanned of Gasoline Alley from 1933 by Frank King. In retrospect, out of context, the below panel is just plain wrong… looks like it is from Shary Fleinniken's Trots and Bonnie.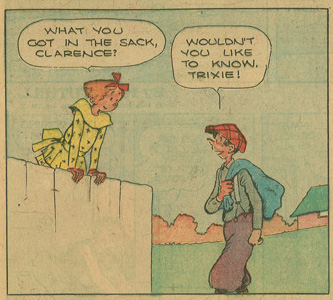 Click the image to view the full strip.
Rogerclarkart.com has a bunch of gorgeous large scans of Gasoline Alley strips.
The ASIFA Hollywood Animation Archive has some Gasoline Alley strips (among other things) here.
Click here to read some other strips by Frank King at Barnacle Press.
Here is a Frank King strip at The Stripper's Guide.
Here are some Frank King strips from The Balloonist.
Here is the Wikipedia entry on Gasoline Alley.
Here is the Toonopedia entry on Gasoline Alley.
Here is a video of Frank King at his drawing board.
Click here to read about Frank King at lambiek.net.
Walt and Skeezix books from Drawn and Quarterly collecting the dailies.
Sundays With Walt and Skeezix, a huge book of Sundays from Sunday Press Books.

Pre-Skeezix, Gasoline Alley strip books at the Spec Productions website.