Here's an example I scanned of Bub, He's Always to Blame from 1905 by Everett Lowry. This strip would appear to be very influenced by Swinnerton, specifically his Little Jimmy (which I've featured here previously).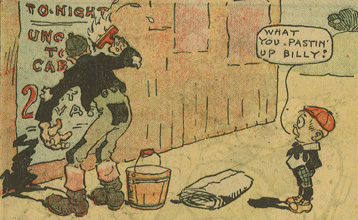 Click the image to view the full strip.
Click here to read Everett Lowry's Mr. Bones in these Chicago Tribune Sundays at Barnacle Press. These also include some amazing, experimental proto-jam comics called Crazy Quilt, done with the Tribune's staff of cartoonists at the time (which included Gasoline Alley's creator, genius Frank King). Don't miss these!
Here is another example of Everett Lowry's Bub, He's Always to Blame at Shorpy.