Here's a nice example I scanned of That Family Next Door from 1918 by Kuatt? Knott? Can anyone identify this cartoonist? It's a pretty polished cartoon, and a funny one, so I would think this is likely to have been done by a known cartoonist. Note the similarity in title and theme to George Herriman's wonderful The Family Upstairs.
UPDATE: Reader D.D. Degg in the comments let us know that this is by cartoonist Jean Knott, who also did the strips Penny Ante and Eddie's Friends. Thanks D.D.! See examples of Penny Ante on Barnacle Press here. See an example of Eddie's Friends on Shorpy here.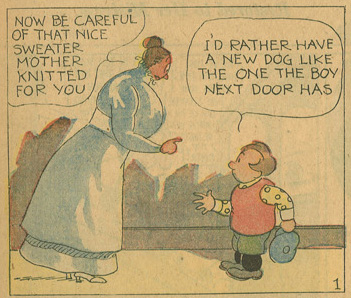 Click the image to view the full strip.